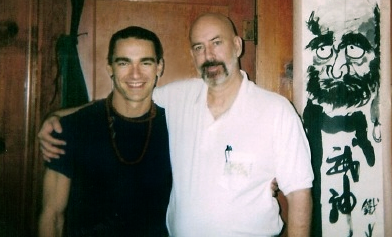 Tao Semko with Glenn J. Morris, PhD, ScD
Tao teaches courses in Ideokinesis, Extraordinary Vessel Cultivation, the Manangement of Somatized Consciousness, traditional Inner Tantric Yogas (Hatha, Laya, Raja, Kriya, Generation and Completion Stage Highest Yoga Tantra, Mahamudra, Karmamudra/Sambhoga Yoga/Maithuna, and more), Alchemical Qigong, and Dr. Glenn J. Morris's Improved Kundalini Awakening Process worldwide, both online and via local workshops.
Registration for any of Tao's online programs, in-person classes, or workshops, requires completing a simple application process which includes answering an applicant questionnaire, 3 references, and doing a Skype interview with Tao, and acceptance by Tao as a student.
Mentorship, Online Classes, and Practitioner Communities
Tantric Yoga and Alchemical Qigong Practitioner Group
Online community of earnest, compassionate practitioners of all skill levels, with live streaming classes/practices each month via Zoom.us, Open Q&A and Discussion most weeks via video and text chat, a dedicated private group on MeWe.com, and MeWe text chat for socializing and sharing, a host of prerecorded instructional and practice materials (over 300 hours). In addition, members can select from an even larger library of materials, with additional tuition or with credits earned doing and journalling sadhanas in the private social media group. This additional multimedia knowledge library includes the College of Tantric Yogas course curriculum, a host of sadhanas including mantra sadhanas, Deity Yoga sadhanas, Hatha, Kriya, Laya, and Maithuna/KarmaMudra sadhanas, all of the original recordings from the U.T. Tantric Inner Circle, and more… hundreds of hours in total. Admission requires application, video interview, references, and approval by Tao.
Complete description and information on the Practitioner Group and contents of the members-only media stores:
https://taosemko.com/practitioner-group/
Tao's Mentorship Program: Mentorship in the embodied, integrated cultivation of all aspects of energy and consciousness – For advanced practitioners wanting personal instruction in higher yogas, individuals coming to Tao with unmanaged kundalini syndrome in need of structured recovery and integration advice, and more..
Complete description and information on Tao's Mentorship Program:
https://taosemko.com/mentorship-program/
Dr. Glenn J. Morris's Improved Kundalini Awakening Process (KAP): Live Streaming Interactive Online Classes, Pre-recorded Streaming Online Classes, and in-person Workshops and Retreats. Explanation of Dr. Morris's KAP (an internal alchemy)
– all of the above linked KAP pages include re-attend discount links for prior graduates.
Online community for KAP practitioners exists on both private Facebook and MeWe.com groups; please contact your instructor for access.
Live In-Person Workshops
Live events and workshops on Kundalini Awakening Process, Alchemical Qigong, Ideokinesis, Tantric Yogas (Hatha, Kriya, Laya, Maithuna/Karmamudra, Raja, Trul Khor, Deity Yoga, Candali, Mahamudra, more)
Philanthropy
Please support our Philanthropy in honor of the late Dr. Glenn J. Morris's efforts during his lifetime by assisting those in need in the wake of war, famine, social breakdown, and natural disaster through our Mercy Corps fundraising pages here:
Dr. Glenn J Morris Kap Philanthropy.