About the Improved Kundalini Awakening Process
Dr. Glenn J. Morris's Improved Kundalini Awakening Process is a simple set of skills that engages the actual physiological shifts experienced during kundalini awakening, and then smoothly expands the body's neural and endocrine networks to make the physiological shifts permanent.
Rather than using abstract rituals to engage the biological changes indirectly, KAP is an ordered, synchronized practice of the biological phenomenae of kundalini arousal and awakening, using movement, emotion, breathing, visualization, and directed sensory awareness to awaken and move kundalini, evolving the consciousness as the neural and endocrine signals evolve.
The sequence of skills, some traditional, some modern, assembles into a daily practice of approximately 40 minutes daily, with supplementary skills that can be done in free moments throughout the day, or even while doing mundane activities.
KAP's side effects are an added bonus: all of the KAP skills not only develop biological and metaphysical capacities, but also serve the KAP practitioner in work and family relationships and in times of both stress and great enjoyment.
Tao Semko is one of the five individuals who was authorized directly by the late Glenn J. Morris PhD, ScD, to teach his kundalini methods.
Click to register for Tao's next online KAP Level One class which presents a complete set of personal micropractices that bring about the natural, safe, rapid awakening and complete progressive integration of kundalini through the body's centers.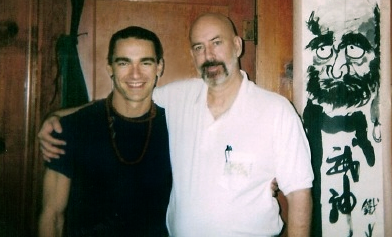 Tao Semko with Glenn J. Morris, PhD, ScD