Programs: Online Courses, Workshops, Retreats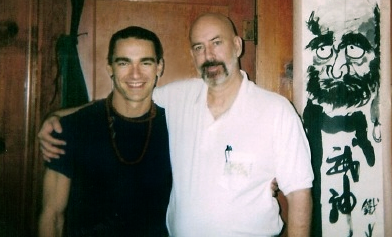 Tao Semko with Glenn J. Morris, PhD, ScD
Application Process:
Registration for most of Tao's online programs, in-person classes, or workshops, requires completing a simple application process which includes answering an applicant questionnaire, 3 references, and doing a video interview with Tao, and acceptance by Tao as a student. If you wish to get a sense of Tao's personality or teaching style, his Rapid Relief from Embodied Stress and Tension course, immediately below, is a great option, with no application required!
Programs for Somatic, Emotional, and Sensory Self-Regulation:
Practical, empirically tested, non-dogmatic principles & practices for spiritual realization and development of grounded, expanded intuitive and energetic capacities:
Hatha, Kriya, & Laya Yoga
Live In-Person Workshops and Retreats
Live events and workshops on Kundalini Awakening Process, Alchemical Qigong, Ideokinesis, Tantric Yogas (Hatha, Kriya, Laya, Maithuna/Karmamudra, Raja, Trul Khor, Deity Yoga, Candali, Mahamudra, more)
Consultations and Mentorship:
Consider individual consultations if you are merely seeking to improve an existing practice or navigate a particular difficulty in your existing practice or day-to-day integration of mundane and spiritual phenomena…
Philanthropy
Please support our Philanthropy in honor of the late Dr. Glenn J. Morris's efforts during his lifetime by assisting those in need in the wake of war, famine, social breakdown, and natural disaster through our Mercy Corps fundraising pages here.
Streaming Courses and Programs from friends, mentors, and teachers
Entering the Vessels – an experiential immersion in the Extraordinary Vessels of Chinese Medicine and Qigong in personal cultivation, with Daniel-Atchison Nevel of NSEV Healing. – (Six-week on-demand streaming immersive course. The course is a non-linear immersion in the field experiences of the vessels, which is the prerequisite for the more analytical, linearly-presented NSEV Clinical Trainings in Chinese Herbology, Extraordinary Vessel Topical Treatments, Acupuncture Treatments, and Sound Treatments….)
Yuthok's Heart Teachings – Training in Medicine Buddha's Anuttarayogatantra with Dr. Nida Chenagtsang, Donla Tsering, Dr. Ben Joffe, Christiana Polites, and more… – (100 days – Empowerment, Transmission, Explication, Practice and Retreat in Ngondro, generation stage, completion stage, Karmamudra, Mahamudra, and Ati yoga) The spiritual system of Tibetan Physicians. SowarigpaOnline also offers courses in Tibetan Medicine from their website.
Dr. Justine Lemos, PhD's Shakti Path – an initiation and deepening into Vedic and Tantric wisdom. A community of practitioners with twice-monthly deep dives into Ayurveda, Vedic Astrology, and Puranic and Tantric Shakta yoga practices, focusing on further development for certified yoga teachers and experienced or passionate practitioners. Available certification path to Ayurvedic Lifestyle Counselor via Ayurvedic Practitioners of North America.