Programs: Online Courses, Workshops, Retreats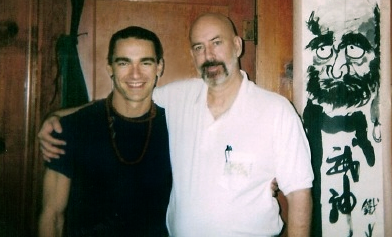 Tao Semko with Glenn J. Morris, PhD, ScD
Application Process:
Apply and Register for Tao's online programs, in-person classes, or workshops. Tao requests that you complete a simple application process which includes answering an applicant questionnaire, 3 references, doing a two-way informal video interview with Tao, and acceptance by Tao as a student. Learn More and Apply Now!
Etheric EV™: Remote Acu-treatments of the Eight Extraordinary Meridians of Chinese Medicine
Community-Style live Online treatments of the Eight Extraordinary Vessels of Taoism and Chinese Medicine. Tao places his awareness at participant's acu-points to facilitate homeostasis in psycho-somatic and psycho-spiritual function. Small group sessions on Zoom (Tao plus 3 – 6 participants) Schedule to Join an Etheric EV Community Session Now!
Autoregulation Station™: Psychosomatic Self-Regulation
Somatic Self-Regulation Courses: Streaming Library of Practices for Somatic, Emotional, and Sensory Self-Regulation – specific exercises for specific symptoms, as well as holistic approaches that harmonize the whole body-personality.
Live guided Zoom Sessions – somatic awareness (enteroception and proprioception), centering, biodynamics, contextualization, relaxation, accessing, processing, expression, breath and emotional cultivation, and more
The Sensual Sublime™: Beyond Sexology
Somatic, Psychosomatic and Psycho-spiritual aspects of sensuality, connection, sexual/emotional response, transcendent and immanent sensuality and sexual practice, both solo and partnered.
Morris Methods and More™: Dr. Glenn J. Morris's Improved Kundalini Awakening Process (KAP)
Dr. Glenn J. Morris's Improved Kundalini Awakening Process (KAP): Dr. Morris's brilliant synthesis of the principles of the physiology and somatic psychology of kundalini awakening and integration. Register for Tao's KAP Level 1
Principles and Nuances of Tantric Yoga & Alchemical Qigong™
TYPG Video Library video, text, and audio from the Tantric Yoga Practitioner Group archives (2017-present) plus Foundations of Tantric Yoga, Trimester 1, (2010)
Deluxe TYPG Video Library: video, text, and audio materials from Umaa Tantra (1999-2005), Tantric Inner Circle (2003-2005), College of Tantric Yogas (2010-2014), and Deluxe TYPG archives (2017-present)
E-books from Umaa Tantra (1999-2006)
Schedules of Online Classes, Appearances, Workshops, and Retreats
In-person Workshops
Philanthropy
Please support our Philanthropy in honor of the late Dr. Glenn J. Morris's efforts during his lifetime by assisting those in need in the wake of war, famine, social breakdown, and natural disaster through our Mercy Corps fundraising pages here.
Tao's recommendations: courses by other folks whose material Tao likes