Programs & Mentorship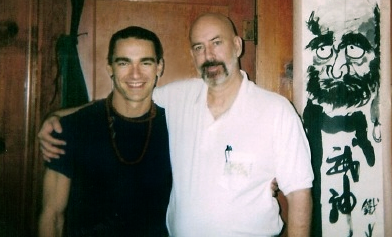 Tao Semko with Glenn J. Morris, PhD, ScD
Tao teaches courses in:
Managing Somatized Consciousness – how to read and re-train the body's physical stress responses for greater freedom and ease
Ideokinesis (using specific imagery/metaphors in motion to improve the ease, safety, and efficiency of body structure, movement, and process)
the Manangement of Somatized Consciousness
Traditional Inner Tantric Yogas
Vyayama and Sukshma Vyayama (breath-synchronized physical culture)
Taoist Non-Dual Contemplation
Alchemical Qigong
Extraordinary Vessel Qigong
Dr. Glenn J. Morris's Improved Kundalini Awakening Process and the Glenn J. Morris Method
Registration for any of Tao's online programs, in-person classes, or workshops, requires completing a simple application process which includes answering an applicant questionnaire, 3 references, and doing a video interview with Tao, and acceptance by Tao as a student.
Mentorship, Online Classes, and Practitioner Communities
Specific Programs:
The Mother of All Tantric Offerings – all our materials released 2001-2005. The same materials are also available piecemeal here to current members of Tao's Tantric Yoga and Alchemical Qigong practitioner group.
Secrets of Abdominal Isolation: Uddiyana Bandha and Nauli Kriya (2003: first edition, 2005: second edition, 2010: three progressive sadhanas: preliminary practices, physical practice, spiritual applications)
Live In-Person Workshops and Retreats
Live events and workshops on Kundalini Awakening Process, Alchemical Qigong, Ideokinesis, Tantric Yogas (Hatha, Kriya, Laya, Maithuna/Karmamudra, Raja, Trul Khor, Deity Yoga, Candali, Mahamudra, more)
Tao's Mentorship Program: Mentorship in the embodied, integrated cultivation of all aspects of energy and consciousness – For advanced practitioners wanting personal instruction in higher yogas, individuals coming to Tao with unmanaged kundalini syndrome in need of structured recovery and integration advice, and more..
Consider individual consultations if you are merely seeking to improve an existing practice or navigate a particular difficulty in your existing practice or day-to-day integration of mundane and spiritual phenomena…
Philanthropy
Please support our Philanthropy in honor of the late Dr. Glenn J. Morris's efforts during his lifetime by assisting those in need in the wake of war, famine, social breakdown, and natural disaster through our Mercy Corps fundraising pages here:
Dr. Glenn J Morris Kap Philanthropy.