Visual Stepping Stones to the Absolute: Secrets of Visual Samadhi E-book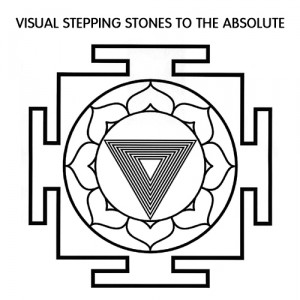 How to achieve sensory withdrawal, concentration, meditation, and absorption (samadhi) rapidly, using simple visual techniques you can do anywhere…
The secrets of the esoteric visual yogas, explained in plain english. Techniques include the exotic sounding, but very simple and practical: Tratak, Shambhavi Mudra, Bhairavi Mudra, Skygazing and Yantra Yoga using mystical diagrams to achieve specific states of absorption (samadhi), and then finally to dissolve into pure voidness…
Yoga Through the Visual Mind: A Practical Manual and Summary of Practices, with printable PDF Yantra files for practice.
Part One: the preparatory eye exercises for mind and vision
Part Two: the esoteric instructions on yogic gazing (trataka, the relaxed, fixed, unblinking stare) and the yoga (shambhavi mudra) that may be obtained by perfecting this technique, withdrawing inward, and relaxing into a centered, one-pointed, contemplative state… with step-by-step instructions for each stage, and what to expect along the way.
Part Three consists of the various advanced visual yogic techniques of breath and movement of awareness that may be attempted and perfected once the eye exercises, gazing, and one-pointed contemplation become second nature: Hindu Yantra Yoga, Yantra Yoga combined with Japa, Yantra Yoga combined with Nyasa, Yantra Yoga as used in Laya Yoga, Yantra Yoga combined with Swara Yoga, The Yantra Yoga of Sanskrit Characters, Yantra Yoga in Vaastu, Asana, and Tandava, Visual Yogas in Other Traditions… all defined and explained in plain english.
Your Purchase Also Includes: 14 printable .PDF Yantra files for your practices
Visual Stepping Stones to the Absolute (.pdf e-book with .pdf yantras) – $19.95 .pdf download
Get your copy of this practical esoteric text now!