Uddiyana Bandha and Nauli Kriya – Progressive Video Courses – Secrets of Abdominal Isolation and Manipulation
Original 2003 broad market brochure for "Secrets of Abdominal Isolation: Abs like Maxick — Uddiyana Bandha and Nauli Kriya, published at UmaaTantra.com; second edition 2005;
third edition 2010 with streaming digital content from ProgressiveSadhana.com added to the course and brochure:
*****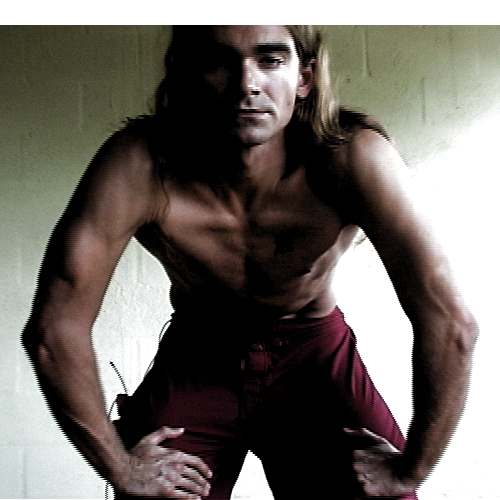 Dear Friend,
Something is very wrong with today's books on yoga.
I was just at Barnes and Noble last week, looking through the yoga section.
I looked at 18 bestselling hatha yoga books, all written in the last 10 years, and not one covered what the great yoga masters call the most important exercise in Hatha yoga.
In my private library of out-of-print yoga classics and yoga books published only in India, the exercise appears in every text. And every text declares it "the most important exercise in hatha yoga."
So why is it that none of the Los Angeles and New York "celebrity" yoga books mention it?
Because the technique difficult to explain in print (though very easy to learn from a *real* teacher),
because it provides real spiritual advancement, very very rapidly, (and here's the biggest reason for vain yoga celebrities):
because it won't get them on the cover of Yoga Journal looking like a human pretzel with a strained smile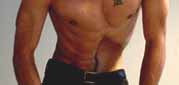 As you'll see from the picture above… the technique sure looks different, but it doesn't look pretty.
So if this technique isn't in any recent yoga books, is it taught in yoga classes? The one word answer: Nope! You won't see it in standard Bikram, Power Yoga, Ashtanga Vinyasa, or "Kundalini" yoga classes. You certainly won't see it in gym yoga classes.
You might see it, usually glossed over, mentioned in a $2000 to $10,000 yoga teacher-training course.
Most "certified yoga instructors" can't even manage to perform it once. Go into your local yoga class and ask to see it!
Those who do know it usually only know of it as a cleansing warmup, part of the 6 purifying actions of classical hatha yoga. But even the medieval hatha yoga classics portray it as so much more…a truly transformative path to bliss in and of itself.
I'm talking about nauli kriya, the development, isolation and churning of the abdominal wall – the "six pack", or abdominus rectus.
The Hatha Yoga Pradipika, the most authoritative ancient text on hatha yoga, says
"Nauli is foremost of the hatha yoga practices. It kindles the digestive fire, removing indigestion, sluggish digestion, and all disorders of the doshas, and brings about happiness"
Now – that said, don't you think you want the ability to bring about happiness at will? To instantly cure indigestion and improve your metabolism?, might you want to have the secret to this remarkable abdominal ability? I think so!…
I teach nauli to all of those fortunate enough to take yoga classes at Umaa Tantra. My students develop one-pointed focus and bliss all the faster for it.
Nauli is admittedly hard to learn from a book.
So in 2003 I made a video tape, with step by step instructions and demonstrations. 18 simple exercises, each building on the one before it.
Each exercise brings the practitioner one step closer to real hatha yoga mastery.
Two years later I improved the material and re-recorded the video as a DVD.
And a few years after that, I made progressive online video courses – three 21-day progressive practices (sadhanas), taking the student from novice to expert.
I stick with simple, physical instructions in the original videos, so you aren't confused by foreign language and technical jargon. I filmed the exercises in my own "inner sanctum" (at home, where real yogi's do their exercises) – not on some some computer-generated beach on Mauii.
Want all the benefits of nauli, but don't consider yourself a yogi? No matter:
The abdominal manipulations on this recording were used by western strongmen from Maxick to Charles Atlas, all the way to the great Arnold Schwarzenegger. It made their midsections awe-inspiring… Nauli was included in yoga and physical culture books until the 1960's, and practiced until the late 1970s… and then as steroid bodies, with their protruding barrel-abdomens, took over the gyms, it all but disappeared.. I have resurrected these priceless secrets on these videos, clear as day, step by simple step. All you have to do is buy, watch, and become a god… or goddess…
Think nauli is just for men? Nope!– in fact, if you're female, doing nauli daily will not only improve your metabolism, but it will also automatically reduce the length and symptoms of your menstrual period! In fact, nauli is one of the major "secret" exercises used by female yoginis to give them both sexual power and blissful cycles!
Not only does nauli provide great health benefits:
better digestion,
improved metabolism,
reduced stress,
easier meditation, a
clearer mind, and
balanced sexual hormones,
but Nauli will impress your friends! Nauli is not pretty in a still photograph. This is true. But it is amazing. You will impress friends and foes alike with one of the most amazing tricks of the human body, as you churn and isolate the muscles of your abdomen with astounding control and power.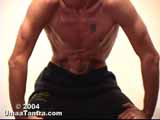 (Click on thumbnail for moving nauli video in Quicktime Format!)
Not into showing off? Maintaining modesty as a spiritual practice? Then master nauli so you can teach it in your own classes, to benefit all beings!
These secret techniques are priceless; and at the offering price, I'm practically giving these videos away! But as low as the price of this hostoric course is, your purchase will also include:
*High Quality Streaming versions of the materials from our original two videos of home instruction, teaching you step by step, skill by skill… The 2003 and 2005 editions…
*Three online 21-day progressive practices of nauli: more than 21 hours of online video training:
a $180 value*

Uddiyana & Nauli Course 1: the Preliminaries (preparing the body)
Uddiyana & Nauli Course 2: Physical Tapas (yogic purifying practices)
Uddiyana & Nauli Course 3: Spiritual Application (yogic spiritual practice)
*Step-by-Step Exercise Checklists to learning Uddiyana and Nauli…
*Special Report: The Secrets of Vitality, at Any Age!: How to Stay Energized in Sport, Sex, Combat, and the Corporate Wars…,"
*Special Report: The Real Secrets of the Ancient Warriors of the East: How to Increase the Power of Everything You Do by Plugging in the Eight Powerful Principles"

*Delivered Online as streaming video at TaoSemko.com!

Best wishes, and be sure to take advantage of the free video Q&A's I offer weekly to my students while keeping me appraised of how your nauli is coming along!


Tao Semko

Secrets of Abdominal Isolation (Nauli Kriya): Abs like Maxick – is normally US $199

And you order right now, not only will you get our original 2003 nauli exercises video, called Abs Like Maxick, which originally sold for US $199 on VHS tape and DVD, but…

you'll also get the 2005 edition,

called Secrets of Abdominal Isolation v2.0, containing all-new step-by-step footage, along with a special bonus demonstration of Inverted Oli Mudras, which are the highest and most secret external techniques in Tantric Hatha Yoga.

and, you get the 2008 ProgressiveSadhana.com streaming video courses (Nauli, the Preliminaries, Nauli: Physical Tapas, and Nauli: Spiritual Applications), detailed above…

P.S. #2,
If you're a yogi, I can't be any more blunt… this is what is missing from your yoga practice!.

If you're a physical culture fanatic… discover how and why the legends did these practices….

Secrets of Abdominal Isolation (Nauli Kriya): Abs like Maxick – US $199

Historic youtube video of Tao Semko demonstrating nauli, from a different video presentation: